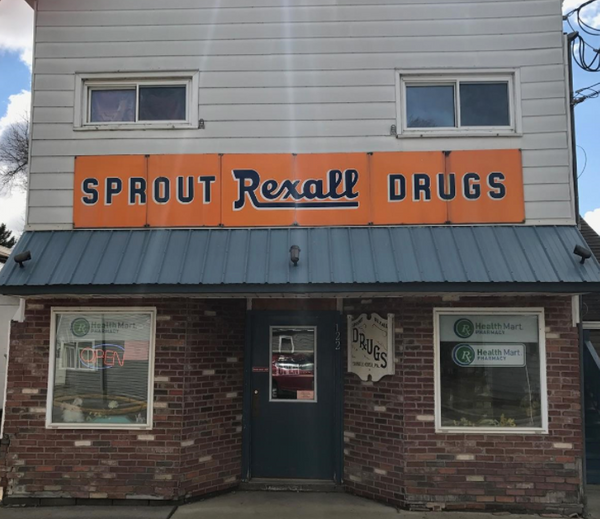 The W.W. Martin Pharmacy was founded in 1901. Fred Hoose, who had worked for Mr. Martin the owner, purchased that business in either in 1910 or 1921 (conflicting historical records). The building was moved to its current location by rail, year unknown, it has been told that the home was built in Oswayo, dismantled, loaded onto the train and moved to its current location at 122 Academy Street.
The Rexall Drug company was established in 1904. Martin's must have been with Rexall because Fred Hoose former owner was also. The pharmacy was a Rexall store when purchased in 1955 by the Sprout family.
Joe Sprout attended Philadelphia College of Pharmacy in Philadelphia, Pa., completing it in just 3 years instead of the usual 4 years. This was after he served in the Navy during WWII as a pharmacist's mate. His Navy service was cut short due to a bout of rheumatic fever. He was sent to to California to recover from the rheumatic fever where his met a young girl named Bernice at a USO dance and soon married.
After Joe's discharge from the Navy, the young couple moved back across country to Philadelphia for Joe to attend pharmacy college. Bernice then moved to Muncy where in 1947 their son Howard was born. On several occasions, Joe would hitch rides from Philly to Muncy to spend a bit of time with his family. Joe's dad, Ray Sprout still lived in Muncy, serving as the mayor.
Joe and Bernice dreamed of raising their family based on having quality time together as a family and being active in a church. In 1955, Joe was working at Harter's Drug store in the small town of Muncy, Pa. Joe's career at Harter's Drug Store was not allowing him time for his family or his faith. He worked 60-70 hours per week and didn't see his family as much as he wanted. Moving away from Muncy seemed the only option but was hard on Ray (Joe's dad) since Joe was his only child and Joe's mother had died when he was a teen. Bernice's family was still in California. Joe and Bernice embarked on an adventure to build a life together in another town. The year was 1955.
Joe was able to get a list of pharmacies for sale in rural areas of Pennsylvania. They made a trip to Shinglehouse and actually drove around the countryside counting houses to see if there were enough families to support the pharmacy. The Sprout Family then moved to Shinglehouse. On October 26, 1955. Joe Sprout took over ownership of the pharmacy which was renamed Sprout's Drug Store.
Our Location
122 E Academy St

Shinglehouse, PA 16748
Contact Us
Phone: 814-697-6331
Fax: 814-697-7437
We're Open
Monday-Thursday: 9:30a.m.-6p.m.
Friday: 9:30a.m.-5p.m.